I think this may be the best gift I've ever given my fiancee. She came home glowing every night after training.
Kate was so amazing. She was kind, assuring and i could tell she truly cares and wants the best for the dog and myself!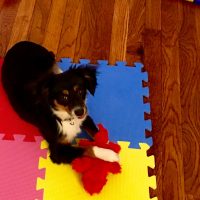 Although we live in Astoria, I don't mind traveling all the way to Brooklyn to take the classes because my dog (and I) really enjoy them!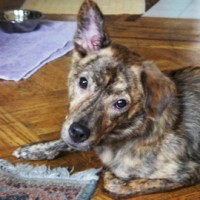 Thank you again for all your wonderful guidance and help with training Henry. As you observed during our first training session, Henry's been a headstrong and impulsive chaser of any moving 'object' that approaches- joggers, skateboarders, bicyclists, dogs, and children. He was out of control on the leash and would yank me every which way. I didn't think I'd be able to curb his 'playful lunging'. Well, within 3 weeks of your first visit, his improvement has been incredible. With your help and our practice sessions, Henry is a different dog on the leash. He's not chasing after people anymore, and lo and behold, he's not chasing after squirrels and birds, which is amazing, since that's in his 'hunting' nature. I know I have to keep vigilant about continuing his progress, but I can't thank you enough. You have a tremendous gift and it's been such a pleasure working with you!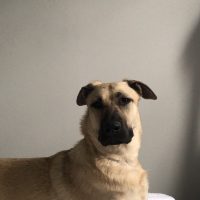 It was all really helpful – Cooper is working on not jumping up, recall, and not being sassy when we put on the harness 🙂 all of the exercises were helpful and we've already started working on them with him and are slowly seeing improvements!
Basic Manners was an excellent course addressing all the right commands: sit, stay, come, etc. The written materials, home work, visuals, demonstration & opportunity for practice were perfection. Patricks's knowledge, skill & patience created a wonderful classroom experience. Finally, both Patrick & Lizzie responded to our puppy specific concerns.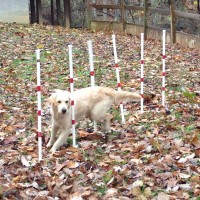 I faced getting my first "Own Dog" with trepidation. What about our old cat? what about the spiral stairs? Aggressive dogs, strange city noises, off-leash in Prospect Park?!! Sarah Westcott led us from Puppy-Prepping our home through Socializing, Family Manners, Beginning Agility and Tricks. We had a true ally every step of that journey. As my now 20-month-old Golden Retriever, Petra and I prep for our first Agility and Obedience trials we are eternally grateful to Sarah for such a solid foundation. We are the team we are because of her guidance.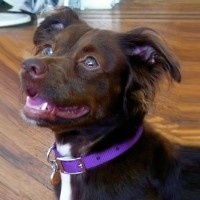 I will be back! I'm happy to have found a place to help my fearful rescue dog grow and have new experiences. She deserves lots of fun! And I'm excited for more classes. Thank You.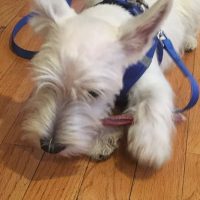 Thank you for all your great help again with Frederick aka Freddy, He is a great dog and your help in helping me learn how to help him what's brilliant. I could not of done it with out you.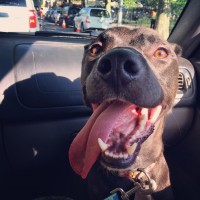 This was a great experience. We were at our wits' end trying to figure out why our dog had manifested such severe separation anxiety so suddenly and how to address it. After the session with Sarah, our dog's behavior improved rapidly and his stress level immediately decreased.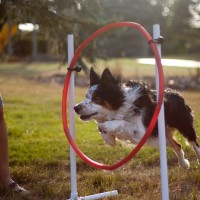 I recommend Doggie Academy to everyone I meet at the dog park with a high-energy dog. The training classes are really great for Archie, keeping his mind focused and tiring him out. We are really enjoying the new, larger space and the new seminar offerings.
Maxi had a great time in class and loved it so much he didn't want to leave! Excited for the next session.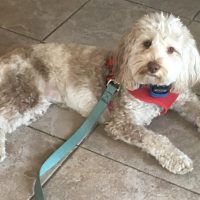 We loved working with Sarah!
Our experience exceeded our expectations.  Our dog is easily distracted and our reason for taking him to agility class was to help him focus when there are other dogs present and lots of activity happening around him.  Sarah gave us excellent tips to keep our dog focused during class and fun activities to help us bond with our pup.  We have seen a great improvement in our dogs ability to focus when surrounded by distractions and are excited to continue his agility training.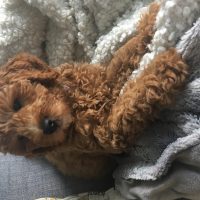 Sarah was wonderful. She was timely, friendly and Mufasa seemed to love her! We really appreciated her thoughtful approach and willingness to talk about anything we threw at her.. and we threw out a lot 😉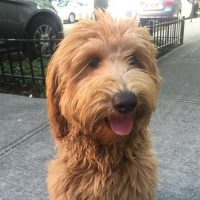 I learned so much about how dogs interact with each other, and how to differentiate between appropriate and inappropriate play. I feel so much better at the park knowing what signs to look for and am able to give Moose a lot more freedom.
I loved learning how to play "nice". This simple practice of making him sit – or say "please" has been invaluable to a number of fundamental lessons we are working on with Finn. Whenever he wants something, he now sits as his first response. I love this!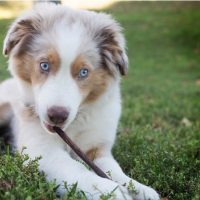 I loved the intro to agility class and so did Libby. Amanda was great – always upbeat and helpful. I would love to take another class on agility.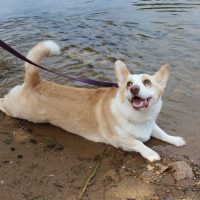 So amazing. I can't wait to take another class. I've always loved training and working with Sierra but after this freestyle class, I feel so much more motivation. I am so excited to take future classes there with Sierra!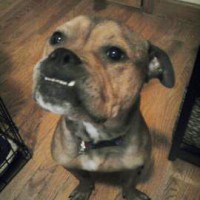 Thanks so much for your work w/ Pork Chop. He has made great strides in his behavior in only three sessions with you, and I feel much more comfortable as a first-time dog owner now. Thanks so much!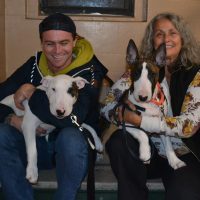 Patrick was really good at addressing each individual dog and handler's needs. He explained each cue well and provided visuals for reference. I love that the class is small! I attended a puppy kindergarten class with one of my other puppy owners at another facility and there were too many puppies in the class; it was chaotic, noisy and the handlers got very little individual attention. It's difficult enough for puppies to focus with minimal distractions, and the small classes at Doggie Academy allowed Patrick to work with and adapt to the needs of each handler and dog. A one size fits all approach to dog training that does not take into account the breed or the handler's experience is ineffective. Patrick was patient, thorough and always so well prepared. Aurora adored him!! We loved the class!
Patrick is a really excellent teacher. He clearly cares a lot and is super friendly and helpful.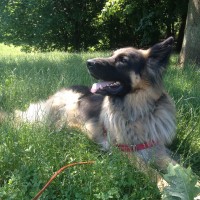 I appreciated the variety of training exercises and strategies offered to tackle the assorted challenges my dog and I were having.
Very impressed with Sarah's easy approach and quick assessment of Slick's issue with leash reactivity.
She was on time, professional, friendly and gave us good pointers about slick's behavior in general, on and off-leash. Very nice that she was punctual and efficient!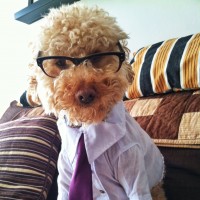 The classes have been awesome, and a real benefit to Rux's confidence and training all around. We both really look forward to classes, and Sarah, you're great! I also really appreciate that the number of dogs enrolled in class is kept to small number. We walked away after each class with new skills to work with and build on.
Amanda's teaching style is excellent. She was organized, specific, explained the "why" once we got the action going which I always need to hear, too. I understood why she explained the low-height of the agility apparatus for puppies, and it only reminded me how everyone's expectations are different. For me, I was just curious and knew nothing about Agility except seeing it on TV, but it made sense to me to try it as a learning tool for a young pup. How to stimulate a dog mentally, ESPECIALLY living in small spaces in NYC, is important to keep everyone happy. The apparatus in class is impressive, but Amanda always explained how it helped the dog develop, and gave some cool home applications, too, using everyday objects.

I also appreciated how Amanda was tuned in to my dog's particular issues and personality, taking them positively and giving me advice when I asked for it on resources around the community for socializing more. She made me feel like I had a wonderful doggo (new rescue) which made me feel happy!

I was so thrilled to see how my dog learned quickly in this class. When Amanda commented how fast she learned and built confidence, it built MY confidence, too. I had a hunch as she was starting to learn commands at home quickly, but to hear it from a professional meant a lot to me. This one class just added a lot to my joy, adopting this pup.

As a new rescue waiting to become fully "street legal" there aren't really a lot of classes to attend, so it really gave me a lot of cheer to come out (with my adult daughter) in the first two weeks after bringing Lyla home. Thank you so much for a positive introduction to Doggie Academy, a happy and productive one-time class. I'll do the home suggestions, too.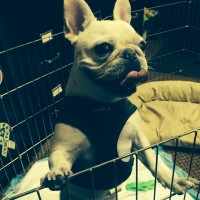 I was truly impressed by Kate's enthusiasm, patience, and warmth throughout all of the group classes and our additional private lesson. I would not hesitate to recommend her to any fellow dog owners.
I liked that Sarah & Amanda came into my home to see the real situation and set-up. They provided concrete training steps so that we continue with the training by ourselves.
The trainers were very helpful and understanding with my needs They provided great advice on how to deal with my dog in a way that won't cause him any stress or make him aggressive.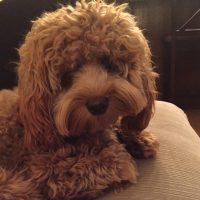 Amanda was fantastic. She was knowledgeable and incredibly patient and kind. She made learning fun and easy. Amanda was also highly responsive to emails and just overall a pleasure to have worked with.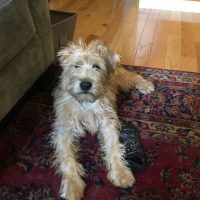 I wish puppy social hour happened more often!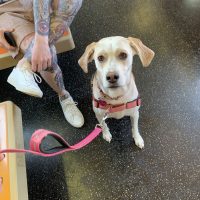 We really loved giving Daphne the opportunity to do Recreational Agility every week. She has become a better listener (although not less talkative…) and more confident in her movements. She has the tendency to be insecure with walking on certain textures and things that don't feel balanced, so seeing her conquer the raised walk-way, teeter-totter, and wobble board was great. Amanda was a great instructor and truly cared about our dog.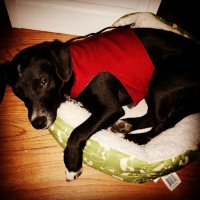 Thank you so much for all of your help and guidance. We really learned a lot and had a great time in the process!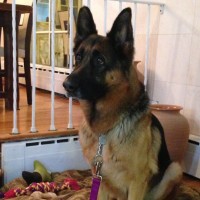 Sarah has an unassuming, unpretentious demeanor; a wonderful philosophy and a sound, definitive step by step curriculum all of which are outstanding and reflective of her expertise and devotion to her calling as a trainer. She is a blessing to any dog or dog owner who happens to call upon her.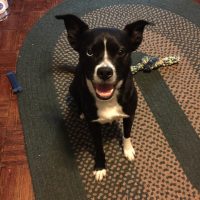 Amanda was phenomenal! She seemed very experienced with the subject of the class (agility) and able to differentiate for each of the dogs in the class, no matter their level of ability. My dog struggles with confidence quite a bit, and Amanda had really helpful suggestions to help her acclimate to some of the more challenging obstacles. I hope to take more classes with Amanda in the future.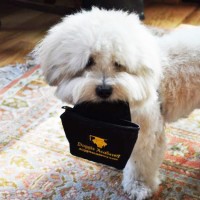 WOW!!!! I've referred every puppy in the dog run to Sarah's class.
Kate is very knowledgeable, caring and patient instructor. She makes training fun, we really enjoyed working with her. She taught us a number of useful tips that I am now using on a daily basis with my reactive German Shepherd. Thank you, Kate!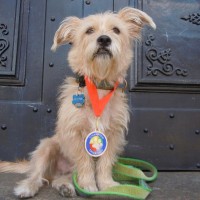 I really hope there are more canine freestyle workshops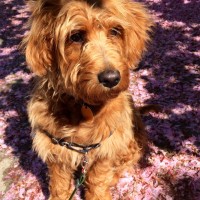 Sarah and Kate showed genuine enthusiasm throughout the entire course. It is clear that they are passionate about what they do. There is obviously a lot of material on obedience training on the internet, but Sarah and Kate really break down the underlying philosophy and spend as much time, if not more, training and correcting the human — you can't get that from watching a few YouTube videos.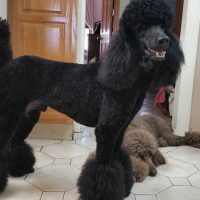 It is apparent there is a genuine love for what they do, as well as a love for each of their clients.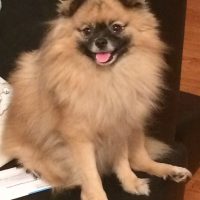 When Sarah arrived for the lesson, I really appreciate that she took her time in talking to us and getting to the root of our problem with Auggie (he was nipping) and was never judgmental. We discussed the problem, what solutions would work, and then a plan of attack. She walked us through the cues, gave us tips, and showed us what to keep an eye on. After the lesson, she emailed a pdf with instructions for what we had talked about. We are keeping up the work with Auggie and seeing an improvement! Andrew and I feel much more confident that we are taking the right steps to keep Auggie a happy doggie 🙂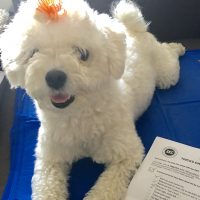 Amanda was wonderful! She was super friendly, made us feel at ease, and worked at a pace that worked for Zuri and me! It was the least stressful eval I've done to date! The extra agility foundations were icing on the cake. Even though we had a private session for the primary purpose of the eval, Amanda ensured we utilized the full hour and taught me as handler with zero agility experience a new few things about agility in a clear, simple and repeatable manner! Amanda now got me hooked on wanting to learn rally or agility!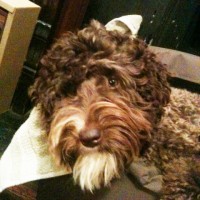 Thank you! Excellent homework assignments.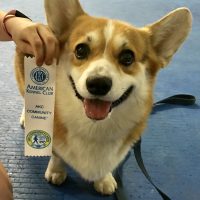 I have always had an excellent experience. Class is fun, informative and supportive.
Lexington and I would love to come back and continue learning about the art of being a good dog.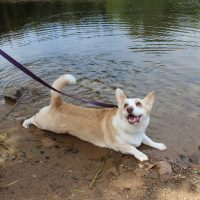 So amazing. I can't wait to take another class. I've always loved training and working with Sierra but after this freestyle class, I feel so much more motivation. I am so excited to take future classes there with Sierra!
Having never previously owned a dog or cared for one, Doggie Academy Training is a fantastic resource. Sarah has been extremely patient and open to any and all questions thrown her way in regards to Ein's development and behaviors. He has made so much progress at home since attending classes, which has taught him how to play well with others along with "sit" and recall. We look forward to attending many more classes in the future and refer fellow doggie owners to the Academy.
Sarah Westcott, the instructor, is very insightful, encouraging, patient with both dogs and their humans. She's an excellent teacher and great model of how to interact with one's dog.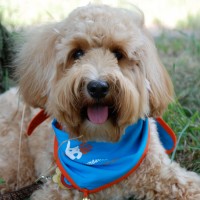 Just wanted to let you know that Chloe passed the evaluation to be a therapy dog! It was all due to your excellent training. Thank you so much!!!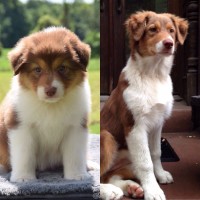 There was not one thing more valuable than any other. And that is the whole point and why I love training my dog (s) here. Everything is inter-connected and builds upon itself so that each part is just as important as the last thing you learned here. Sarah really gets that and can relate that so well to her students, human and canine both.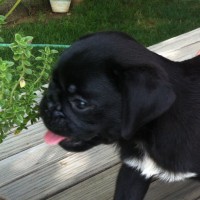 My daughters and I had a terrific experience learning from Sarah!! She is so knowledgable, helpful and pleasant which made our sessions happy and productive. Sarah patiently addressed any questions or issues I had with very practical strategies. I think we're off to a good start with Gizmo thanks to our work with Sarah!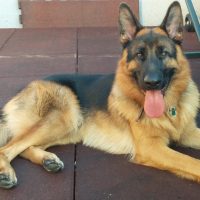 Atticus and I both had a lot of fun in Recreational Agility 1. I particularly appreciated Amanda's efforts in keeping everyone safe, and reactivity to a minimum, by moving equipment, putting up barriers, and having people/dogs shift around to other areas as necessary.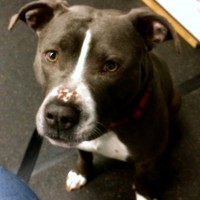 Abby and I built on some training she had previously received. We also worked on our bond, which is huge for us. The entire experience was a benefit.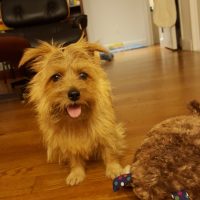 We first heard about Doggie Academy from the Internet. Once we had a session with Kate, though, we were hooked. She has such a positive, upbeat attitude, and offers helpful tips for improving our life with Wicket (within the practical realm of what we and Wicket are able to achieve). Unlike other trainers we had worked with previously, Kate is not judgmental, listens carefully, and does not try to rush things. She gives thorough advice, feedback, and (of course) Wicket loves her.
Our experience at Basic Manners was wonderful! Patrick was thoughtful, precise, and clear through all of his teaching. The classes were very efficient and informative. Would certainly recommend to others. Thank you for all you taught us!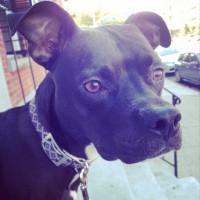 Sarah is a godsend. When I first adopted Bella, she had been living in a shelter for six months and was so confused as to what the world even was outside of the cage she was living in. Sarah helped me to understand Bella–the way she thinks, the way she remembers, the way she understands the confusing world around her. Now Bella and I are more bonded and solid than ever because of Sarah. She really helped me to have a better and more meaningful relationship with my dog.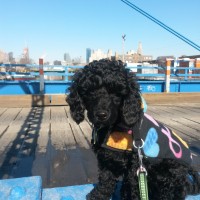 I liked that new items like the tunnel and skateboard were included in the class. I was not expecting this but it was a great way to see and understand the different reactions to the unknown that puppies can have. I also appreciated the tips for making the puppy comfortable with the vacuum cleaner.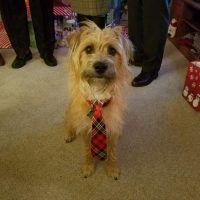 I loved it. We are still improving our communication but Doggie Academy has helped us make huge strides. Plus, Ted LOVES it!
Patrick was great! Leon is very shy and timid with new people, and Patrick was able to make him feel more comfortable and participate in the training.
Sarah is an amazing teacher, especially for the humans who are usually more confused than the dogs 😉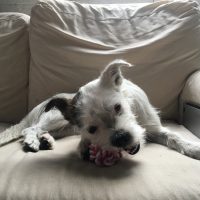 Jamie is a high-energy trainer who motivated both me and my dog at every session. She and her mom were very involved in our progress; they make a wonderful, caring team.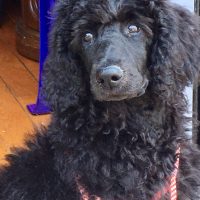 My daughter learned the most!!!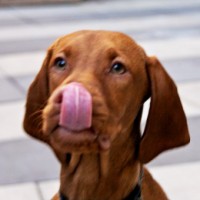 Sarah was such a great instructor. When I brought home our Vizsla, he was so full of energy and had no idea how to behave properly! He was so sweet, but would become unruly and would act like the Tasmanian devil when he "acted out"! Sarah helped me and my boyfriend see that we needed to enforce certain rules so that we would be happy, but also so that Hemi would be happy. She was so right! She seriously helped transform our puppy from a wild man into a well behaved and very obedient dog. She always used positive reinforcement techniques that worked AMAZING well! And she was always patient with our puppy and especially with us! She made the entire experience of training and raising a puppy a lot less stressful and extremely enjoyable. Thank you so much Sarah!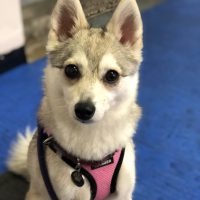 Amanda is amazing! I emailed her before signing up for the class because Winnie is leash reactive. Amanda suggested we sit near the back or front door so we have a quick exit if Winnie needed a break and she did a great job making sure other owners kept their dog out of our space (and always gave them a friendly reminder when they wandered over near us). Her instructions were clear, she was funny, had high energy and made the class really enjoyable for all of us. She was somehow able to cater to each dog's personality in our class, whether the dog was super high energy or very shy and cautious.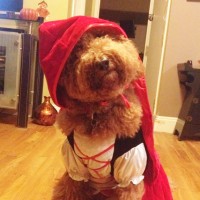 Lucy was very shy and skiddish when meeting new people but now she has improved so much and is becoming really well adjusted. She loves going to her classes. In fact on Saturday mornings I tell her "We have school today" and she wags her tail and runs right to the door. Lucy also happens to adore Sarah! It has been a wonderful experience. Lucy enjoys seeing her classmates and because of Sarah, she also enjoys seeing their owners too! She has learned so much! Lucy no longer jumps on people as they walk in the door but rather sits and waits to be pet.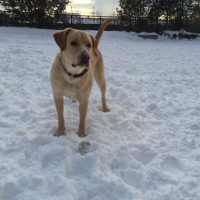 My dog, Oscar, is a young, energetic (sometimes unruly!) lab and regular agility lessons with Sarah give him a great physical and mental workout. He leaves happily tired, and is always so excited to come to the Doggie Academy and to see Sarah, who is a firm, clear, and generous teacher and trainer. Through agility, I have picked up some very helpful training tips that carry over well into daily life and have learned a lot about my dog: what motivates him, what engages him, how to hold his attention, how to respond when he misbehaves. I appreciate seeing an approach that is positive and non-coercive but also firm. And we have a lot of fun!
I'm very comfortable and confident with Sarah and her training, Sarah put me at ease.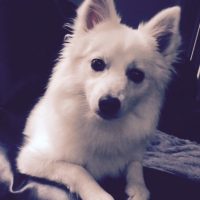 Harley learned jumping and the tunnel. The most important lesson I want her to know is "come"… and I feel when we were doing the tunnel, she was also learning "come". I can't wait to see how far Harley can go with Agility. If she shows promise, I'd love to take her as far as she could go… Maybe even compete with her. 🙂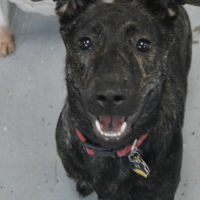 Doggie Academy definitely met my expectations when meeting with Kate. Bodhi loves her. Kate's instructions on how to properly leash walk with Bodhi are amazing. He's a different dog, when we are on our walks. Bodhi focuses more on me rather than nibbling everything off the street.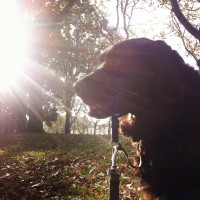 On Friday Boots decided she hated our jog and put the brakes on very suddenly. Her collar slid off over her head and she ran across the street toward home! Fortunately the light had just changed so the cars didn't hit her, and even more fortunately you helped us learn an emergency stop command. I did it, she stopped dead and waited for me to panic my way across the street and put her collar back on. So long story short, you pretty much saved my dog's life without even being there. Thank you, thank you, thank you.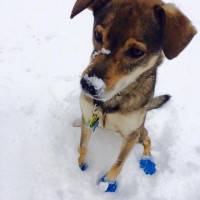 This was a great experience for me and Porter. Sarah is terrific. She is patient and clearly cares for each dog. She worked with each owner/dog and catered the skill to his/her ability. My concern before starting the class was that Porter would be too afraid to try many of the lessons. Sarah assured me that every dog makes progress, even if it is just a little. She was right; Porter was able to accomplish things I never thought he would. It was wonderful to see him having fun and he was so proud of himself!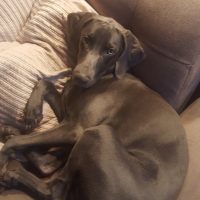 We had one in home session and I saw results after because I was consistent with the lessons I learned from Jamie. She was great and I plan on using her again!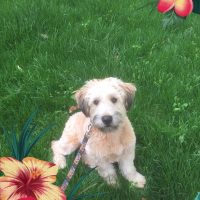 Doggie Academy has been great with helping my puppy socialize, and learning commands. The instructors show genuine concern and will always go above and beyond to help your dog succeed. I will continue taking courses in order to build up the foundation.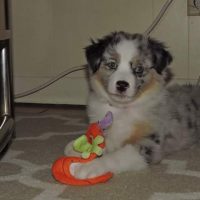 Sadie does well with training and loves agility class.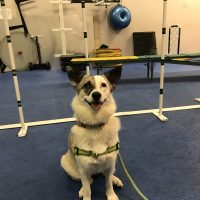 Siouxsie and I both had a fantastic experience in our class. She learned so many new things and I learned how to better teach her. It was fantastic how Sarah was able to see what worked best for each dog and knew when to push them and when they needed a break. Our class has really sparked our Joy of working with agility and we can't wait to learn more!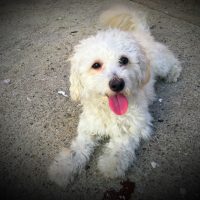 Kate is extremely patient and kind. She listened to my concerns and adjusted the class to fit Charlie's needs and mood. I look forward to our next lesson!
Frankie figured out a perfect exercise to help Luke over his stranger anxiety. She really notices each dog's fears and interests.
Sarah has made a great impact on how we work with Stanley. We feel like we have a better understanding of him through our work at Doggie Academy. Thank you!
PhilLip is a 11month old Cockapoo who was starting to have behavior issues due to fearfulness and is gaining confidence and loves getting to be active and use his rather big brain. Sarah breaks down the agility course so that he always succeeds and loves coming in.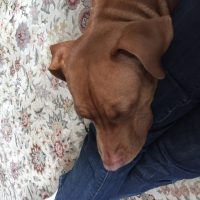 I've received concrete information I understand and can use to continue training my dog. I've learned an excellent strategy on the leash. I'm learning to effectively use treats. And most important I'm learning how to break down a protocol – like "place" so I can teach it one step at a time to my dog.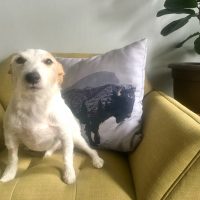 Pigeon and I had so much fun, and we love Amanda! Amanda's a great instructor who clearly cares a bunch about her students. She gives clear instructions and helpful feedback, all while being kind and supportive. We got so much accomplished in an hour and left with lots of ideas for things to do at home. Even though Pigeon and I have been best buds for over six years, I think this class helped us bond and communicate even more.

Class size is perfect and prices are totally reasonable given the amount of one-on-one attention we get (in and out of class).
Our experience exceeded our expectations.  Our dog is easily distracted and our reason for taking him to agility class was to help him focus when there are other dogs present and lots of activity happening around him.  Sarah gave us excellent tips to keep our dog focused during class and fun activities to help us bond with our pup.  We have seen a great improvement in our dogs ability to focus when surrounded by distractions and are excited to continue his agility training.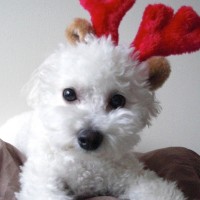 Sarah was an awesome instructor. She made learning fun & it was a great experience for me & my puppy. We'd highly recommend her & hope to take more classes with her in the future.
It was a fantastic experience overall. Sarah was extremely patient, knowledgeable and helpful. She listened to our needs and concerns. Emma was very responsive to Sarah as well as the techniques she modeled for us.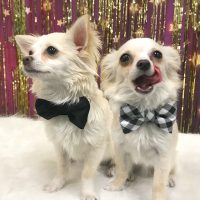 Amanda was absolutely great, super sweet and funny, had a lot of patience and made the class a lot of fun. Everyone enjoyed themselves, dogs and humans!
Patrick is the perfect trainer if you have kids because he's great with kids as well as animals so that was a HUGE PLUS for us.
Sarah is an excellent trainer of both pets and people. She made the learning process very fun and easy. We are so grateful to her and pleased with the results! Many thanks!!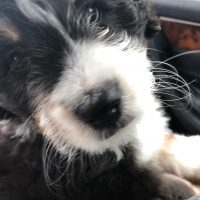 We are really excited that Doggie Academy is so close to our home and excited to have a well-trained puppy/dog!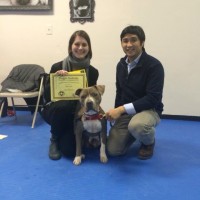 Kate was a great trainer. Meli already knew some of the concepts in the class, but Kate always gave us modifications to help her learn the next level of a command so that she was engaged in each class.
I loved having two trainers. We were all able to get individual attention even though we were in a group class. We learned a lot of things that I hadn't even thought of needing, like "cafe manners" so Jet can go to an outdoor cafe. Thanks!
always made encounters on the street worse because I would expect the worst. But now that I have some cues to use I feel more confident on our walks and we've so far avoided any confrontations. And I know it's an ongoing process. Now if I can only train my dog to give me a treat when I do something right!
Sarah is personable, professional at the same time patient when answering my abundant irrelevant dog related questions. We spent well over the one hour slot in our private lesson and I felt she did not rush at all. Sarah suggested that I only needed the initial private lesson which shows her honesty and her best interests are for the dogs in training and not the amount of money she can make. Sarah is a god sent doggy trainer who wants the best for our canine friends. I will definitely use her service again!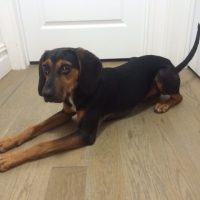 It was really good for Mowgli to be around dogs and lots of stimuli, but still practice sitting quietly and being patient. Of course, it was SO fun to have him do the obstacles as well and he seemed to pick them up quickly (though not necessarily execute them quickly haha).
As a new dog owner I am desperate to learn about my dog and dogs in general. Brook and I have had 4 lessons with Sarah now. Each time both of us have learned such valuable usable tools and strategies. We've taken these tools (strategies) and practiced them and they help us enjoy the world and each other. I feel lucky (and Brook would too if she understood what lucky is) to have met Sarah Westcott. She is a fabulous fabulous dog trainer.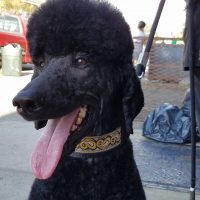 Jameson loves challenges and I love the bond it creates between me and my dog(s). The instructors at Doggie Academy are outstanding. I appreciate the common thread that runs through all the instructors on how they relate to the dogs they are training. I always feel my dog's best interest is what is important. With every class we've taken I have also learned how to read my dog and patiently allow him (and my female at home) to think through a task. I've learned how to not react when they act out trying to get their own way. The overall experience has been wonderful and I appreciate the time and energy the instructors put in.
Sarah is very focused and so smart about this stuff. And she's super helpful with followup questions.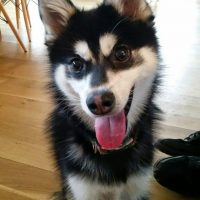 Classes at the Doggie Academy are a fun and exciting experience for both the dogs and their owners. When we approach Doggie Academy, the dogs get excited and rush to the door. I find the classes are useful to improve as a dog owner, and they help the dogs develop better disciplinary skills, as well as enhance the emotional bond between pet and handler. I don't plan on taking my dog to any agility competitions, nonetheless the activities involved excite the dogs, and encourage them to figure out what the trainer is looking for; a skill useful for training any desired behavior. I'm very happy to be taking Leo and Ares to agility, and I hope to continue watching them grow.
Sarah is an excellent trainer and we greatly enjoyed the class. She is well organized and clearly puts time into class preparation. We will certainly look to take more classes with her in the future.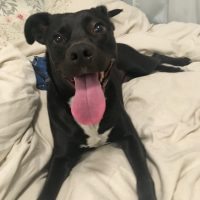 The whole process with Doggie Academy exceeded my expectations. I really appreciated that the trainer we originally selected was careful enough to make sure that we had the right trainer for Penny's particular behavioral issues. Sarah was wonderful and from the moment she stepped in our home, she had a great and understanding energy. She listened to our concerns without judgment and was really able to communicate well with both us and Penny.
Franklin is my first dog, and this experience was our first puppy social. I expected all of the puppies to just play together the whole time, but I had learned so much in that hour observing the puppies being shy and on different social/energy levels. Patrick did a fantastic job moderating and spending time focusing on each puppy. He brought to our attention an important lesson to train our Franklin and gave great advice.
Money well spent. The instructions were clear and you could see results almost immediately. Of course, as owners we must keep up with the training to see ultimate and lasting results.
Kate is an awesome, awesome trainer. She is great at modeling a technique, then having us practice that technique and then giving us feedback in the moment, which allows us to improve very quickly. She is also really good with our dog, Noah.
Sarah Westcott is a very good trainer. She has a good eye to assess both dog and handler performance and her feedback was helpful. She is consistently positive, energetic and assertive.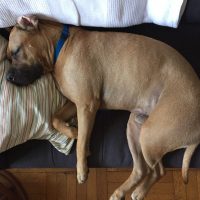 It was great! Amanda helped reinforce things we had heard and also taught us how to understand things from the dog's point of view.
Lizzie is fantastic. She worked really hard to make the material engaging and relatable. She had the hardest job because she had to train is humans!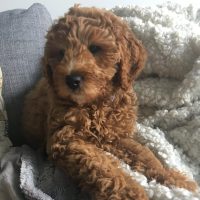 Sarah was wonderful. She was timely, friendly and Mufasa seemed to love her! We really appreciated her thoughtful approach and willingness to talk about anything we threw at her.. and we threw out a lot 😉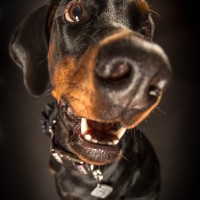 I LOVE flyball. Lucy freaks out over flyball. Can't wait to come back for a second round!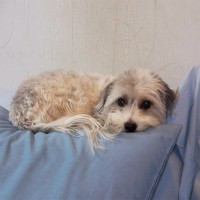 Hi Sarah, I hope you are doing well and your puppy too! My parents got home a couple days ago and say Sam is doing well. Thank you for everything. Sammy is already improving and loves me more.
We had a great time, really enjoyed the course and are looking forward to taking a course with Sarah again!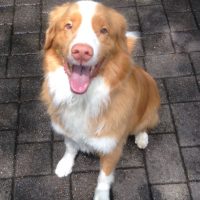 Very pleased with our experience at Doggie Academy. Reilly clearly enjoys it. It's fun to see that he's an eager learner and it's great exercise for him physically and mentally. Sarah sized up Reilly right away and gave specific suggestions for training our speedster.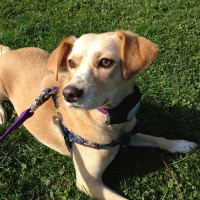 I have tried 2 previous trainers before Sarah and have found her methods the most effective. She makes learning fun for both me and my dog, correcting both of our behavior issues in a way that doesn't make me feel like an idiot or a bad pet parent. I have repeatedly referred her to several of my friends and a few strangers as well! 2 thumbs and 4 paws up for Sarah and the Doggie Academy!
I really appreciated that Sarah was able to provide specific training and tailoring of lessons for my partially deaf dog, Diego! He loved the class and we will continue to work with Sarah in the future.
In order to really keep up with any kind of training, I personally need to stick to a schedule by going to a regular class. We were trying to train Maxie on our own at first and thought we were doing reasonably well, but then we took the class and realized just how much there was that we didn't know (or was doing wrong)! I also liked how we built on the same concepts over time versus learning something once and moving on, as repeatedly performing a task made it much easier to remember how to use it to train Maxie on our own.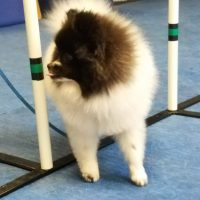 We had a great experience. I have quite a bit of experience training dogs and taught our Bigi basic obedience. I had never done agility and was interested to learn about it. I learned a lot and it was great for Bigi as well.
We are so happy with our experience at Doggie Academy. What we learned has made a great difference in our dog and we use those tools everyday. Sarah is an excellent teacher and we hope to take more classes in the future.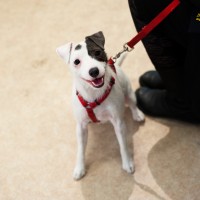 Sarah is a people trainer too, and a very patient one. I feel that if I just follow her directions, I will be able to successfully communicate with Sky. My goal is to enjoy life with Sky as much as possible.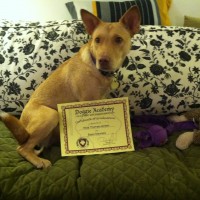 We had a wonderful time, and we feel like our classes really helped us develop as trainers and parents to Hilda!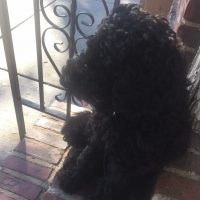 I'm coming back!