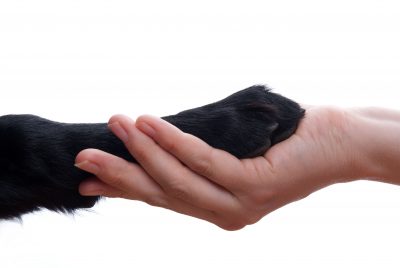 We are happy to announce that we will be hosting Casey Coughlin of Inspiration Canine in September for a very important seminar: Say Yes to the Vet.
Does your dog hide when you pick up the nail clippers or ear cleaning solution? Do you struggle with bringing your dog to the vet? Perhaps you have a new dog that you'd like to ensure is relaxed and happy at the vet? Has your dog been asked to not come back to the groomers? Is he too wiggly to allow for a thorough vet exam? Veterinary visits, grooming procedures, and routine care do not have to be a source of anxiety for you or your dog.
Casey will discuss cooperative care and teach you how to train behaviors that allow your dog to volunteer for routine exams, vaccinations, and general care like brushing and nail trimming. Cooperative care practices have long been established and used on captive wildlife throughout zoos and aquariums all over the world. In Say Yes to the Vet, we will lay the framework for low-stress handling, muzzling & restraining. Learn how to start building positive associations into situations that were once scary. Take the fear and anxiety out of your dog's necessary care. Your dog (and your vet) will thank you!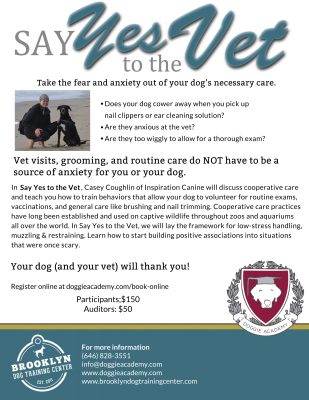 Check out Casey's dog Onni, as he gets adjusted by the chiropractor in the video below.
Registration is open online now. September 23rd, 3pm-6pm. There are only 10 working spots (1 person, 1 dog) available. Auditing spots (1 person, no dog) are also available. The Facebook event is here.