Hank and I were thrilled to compete at the First Annual Master's Agility Championship at Westminster this past Saturday. It was a very long day but it was exhilarating.
This was our first high pressure trial and I was seriously nervous. I was nervous for my performance, but mostly I was scared about what Hank would do. It was altogether possible that he would totally stress out because of the noise and the crowd and jump out of the ring.
Our first run was our Jumpers run. That type of course only has jumps, tunnels and weave poles. We totally tanked the course and it went bad at the 3rd obstacle. Watching the video it was 100% my fault. Hank dropped a bar because I didn't cue the turn and threw my arm up too high. He took the tunnel (an off course) because he was not able to make the turn on the ground in time. Happily, he came right back to me! The next few obstacles were a mess because we were in the wrong places and later in the course he even yelled at me for not being clear. I have posted the run on the Doggie Academy YouTube channel here to show the bad as well as the good. Besides, I was still happy with the run because Hank stayed with me through a ton of stress.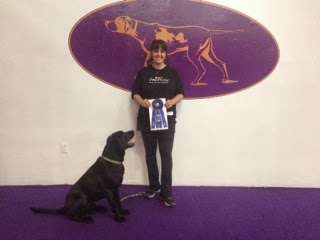 Speaking of the good, our Standard run was clean. That means zero mistakes. A Standard course has the same obstacles as Jumpers, plus contact obstacles. As we finished, I couldn't believe that we had just earned a Qualifying score at Westminster! When I went to check the standings, I was amazed to see we took first place. It didn't make sense (what with all the super fast dogs in the 24 inch group) until I remembered that Hank & I are still in the Excellent class for Standard. Most dogs entered were in the Masters class. That means that we are not as experienced as the Masters dogs and we were the only Excellent team to qualify. Picking up a blue ribbon at Westminster felt surreal. Video of our Standard run is here.
All in all, the competition was well run and Hank & I had a great time. I will definitely keep my fingers crossed that I get in next year. One of the best things about the day was getting to share it with so many of you. Thank you for all of your support!