I've been thinking about poop bags lately.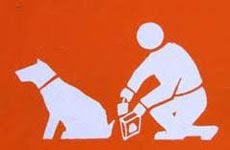 The topic has been on my mind because I bought a pack of PoopEase bags recently… and they are the WORST. I bought them in part because they said they are biodegradable. More like just plain degradable. They literally fall apart before you even use them. Every time I touch them I end up with tiny black and silver plastic bits all over my hands that only come off to attach themselves to my legs, face & neck. Even worse, those bits came from somewhere so when I try to use them they are more hole than bag!
Lesson learned, I will never buy these bags again. I don't even usually buy specially made poop bags. Normally, I re-purpose grocery bags. Usually we have so many that it's not a problem, but we do occasionally run out (when Hank poops more than I shop).
What poop bags do you use?