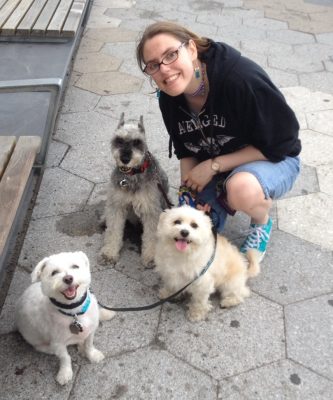 Lizzie Marks' first experience with dog training was trick training with her late miniature schnauzer, Nigel. Nigel and Lizzie volunteered as a therapy dog team at the Armed Forces Retirement Home in Washington DC.
Lizzie began training seriously when she adopted her puppy mill rescue dog Trevor in 2010. Trevor was a fearful dog and Lizzie used obedience and behavior modification to help him. Thanks to her hard work, Trevor has overcome many of his fears and they have even earned titles in AKC Rally.
Lizzie has a Masters Degree in Art Education from Columbia University with a focus on drawing animals from life. Combining her knowledge of education and dog training, she strives to help owners speak their dogs' language so they can communicate as a team.
Services offered