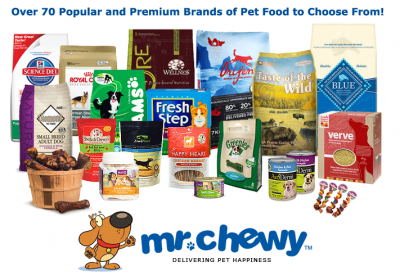 There's a new pet store out there on the interwebs called Mrchewy.com. While the name is silly, they actually offer pretty great service.
On the surface, it might seem like any other online pet store, however the one thing that made me really appreciate them above others is the selection. They carry all the top notch brands that I use and recommend, without having to sort through a bunch of garbage to find them. I ordered Dogswell chicken strips, a Natural Balance meat roll and some Stella & Chewy's super fast.
It was delivered super fast, too. With free shipping on orders over $49, I received my shipment within 2 days. What a great time saver.
One cool feature is their referral program. When you place your first order you can register to receive a referral code to give to all of your friends. When your friends order and use your referral code, not only do they get 10% off their order but Mr. Chewy will donate $10 to charity! You can choose from three excellent charities to receive the donations: Best Friends Animal Society, Bideawee and North Shore Animal League. I could not decide between those three, so I chose to have my donations split between all of them.
When you place your order at Mrchewy.com use my referral code, SARA3463, to save 10% and donate to charity.
I will still support and shop at our small, local pet stores but when time is not on my side, Mr. Chewy will hook me up.