This came in from the Hillside Dog Run Yahoo Group. The gorgeous dog was found yesterday and the foster dad is looking for a home for him as soon as possible.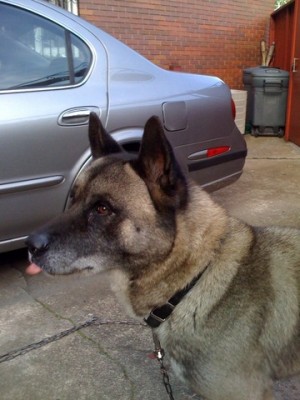 Hillsiders:

This morning someone chained a dog to the fence at the corner of Columbia Heights and Vine and left him there with a bowl of water.

I've taken the dog back to my house and he's in the backyard with food and water.

This is a beautiful dog and super friendly. After I fed him, he curled up in my lap for tummy scratches. I haven't heard him bark yet, even when I've left him for a few minutes.

He knows how to sit, stay, give paw. He's unneutered and appears to be between 2-4 years. He's also playful and seems to be just fine around other dogs.

He's a bit underweight and dirty at the moment. I'm taking him over to the vet when she opens this morning to get him checked.

If you or anyone you know is looking for a wonderful, beautiful and well behaved dog, someone's going to get very lucky with this one. I only wish I could keep him myself. I'm waiting for my friend who's involved in Akita rescue to wake up, but it would be great to find this dog a home as soon as possible. He's gorgeous.

Update:

We just got back from the vet. She thinks he's about 4-5 years. Just gave him a rabies and distemper vaccine. His heartworm and parasite test came back negative. She says he's in good health.

Once he gets another 5 lbs on him, he'll be in great shape. He weighed in today at 72 lbs. He's a real looker (see photos).

Great disposition!!

Looking to adopt him to a good owner as soon as possible. Please spread the word, or if you're looking for a great dog–he's right here. I wish I could keep him.
If you are interested in adopting this handsome man, or can help in another way contact Matthew at mparker@hillsidedogs.org.