Kate Naito, CDBC, CPDT-KA, FFCP is a sought-after dog behavior consultant and trainer, and award-winning author of two dog training books: BKLN Manners(TM): Positive Training Solutions for Your Unruly Urban Dog and Play Your Way to Good Manners: Getting the Best Behavior from Your Dog through Sports, Games, and Tricks. Kate joined Doggie Academy after completing her studies in dog training and behavior at CATCH Canine Trainers Academy, and she is certified by the International Association of Animal Behavior Consultants, the Certification Council for Professional Dog Trainers, Fear Free Professionals, and All Dogs Parkour.
Kate offers virtual lessons in all levels of manners and most behavior issues. She draws upon her extensive experience as a college instructor and force-free dog trainer to create lessons that get to the heart of what her clients need. Very often, this involves adapting training techniques to the challenging urban environment.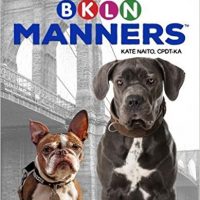 Kate has a particular interest in helping owners of visually impaired and special-needs dogs. She is a rescue advocate who has adopted and rehabilitated many senior and special-needs pets, including her current dogs, Margaret and Beans.
Kate regularly volunteers with Blind Dog Rescue Alliance and has provided assistance to local shelters and rescue groups. She is committed to helping owners communicate clearly with their dogs, regardless of their ages or past experiences, to build lifelong bonds through positive training.
Services offered