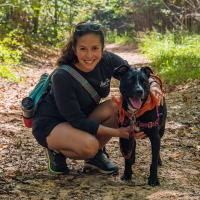 Cristina started her animal training career as a marine mammal trainer at the New York Aquarium. During this time she also worked as an assistant trainer at Doggie Academy and received a graduate certificate in Animal Behavior and Conservation from Hunter College. 

In 2015, she joined Georgia Aquarium in Atlanta, GA to support the opening of their new sea lion program. She left Georgia Aquarium to complete a masters degree in Early Childhood Special Education from Bank Street College. Cristina currently works as a coach for educators of young children in Atlanta. She continues to work with marine mammals on a part-time basis at Georgia Aquarium, while volunteering as a dog walker at PAWS Atlanta during her free time.
Through all these journeys her dog April (adopted from Sean Casey Animal Rescue in Brooklyn) has been right by her side. Cristina has worked with April through her resource guarding and leash reactivity towards other dogs. As a result, April has been able to adapt to whatever city she is living in! Cristina is excited to return to Doggie Academy as a virtual trainer.
Services offered