The Westcott family has a new addition. Everyone, meet Cinder!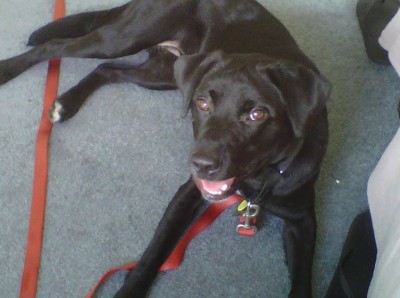 My sister, Kim, recently adopted Cinder from
Peppertree Rescue
. She is a 2 year old black lab mix with a gorgeous square head and white markings on her chest and back paws. She also has a limp tail, meaning she has no control over it. It's pretty comical to see her running around and her tail is just along for the ride. At least my sister doesn't have to worry about Cinder knocking stuff off the coffee table with it.
Cinder is actually the name Peppertree gave her (apparently she was previously called Joan) and Kim decided to keep it. I happen to think it's a pretty badass name.
Hank & I went to visit Cinder the day she was adopted and I'm happy to say that the cousins loved each other! They played together all afternoon and Hank was exhausted by the time we left.
I am so excited for Kim and Cinder, I think they both got very lucky finding each other. I'm looking forward to many years of sister/doggie play dates.