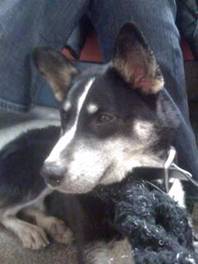 He needs a forever home!!!
AGE: Approximately 10 months old
BREED: Black and White Husky/Shepherd/Border Collie Mix (best guess)
SIZE: Approximately 35-45 (the perfect size for a Brooklyn apartment!)
GENDER: Male, Neutered, Micro chipped & Fully Vaccinated
Poor Sergeant! He was walking down 35th Street with a homeless woman on her way to the methadone clinic. He was emaciated and limping (he had a broken paw). Luckily for him, a nice woman who loves dogs saw him and offered to take him to a vet and get him fixed up. So Sergeant went to the hospital and got his paw healed, put on some weight and got LOTS of love.
From the very beginning he was extremely affectionate. Now he is all better and needs a forever home. He is very friendly, energetic and happy. He gets along great with other dogs. He needs a home with active people who are happy to go to the dog park with him, walk him and go to obedience class. He is very smart & learns quickly. He'd probably do best in a home with no children under 10 years old.
Now he is living at Monster Mutt, with really nice dogs to play with and nice people to pet him, but he really needs his very own FOREVER HOME.
Please come visit SERGEANT at:
Monster Mutt LLC, 297 Warren Street, Cobble Hill, Brooklyn, 718-858-9028