As reported last month, Sarah, Kate & Amanda were preparing for their first Rally Obedience trial. How did they do? We are thrilled to report that the trainers & their dogs did very well. Here are each of their reflections on the day:

Amanda – Lucy and I had a great experience on the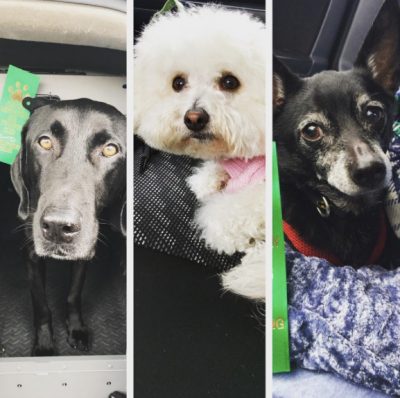 #RoadtoRally. Training for the Rally-O trial gave us something new to work for and, I think, helped us understand each other better.
The trial itslf was actually set up as two trials in one day. During the morning trial Lucy blew me away and not only did we qualify, but we did so with a score of 192 – we only needed 170. By the time the afternoon trial rolled around, Lucy's stress levels were through the roof and she could hardly pay any attention to me. I made the decision mid course that, rather than potentially traumatize my already nervous little dog, we would call it and scratch.
I am still so proud of her for what she was able to accomplish and happy with my own training and decisions along the way. We always need to remember to put the dog first. No ribbon or title is worth putting your through that amount of anxiety. Lucy and I probably will not trial again but we'll continue to work on our Rally-O moves as a way to keep us both entertained and mentally stimulated.
Kate – I was very pleased with our first rally trial and it turned out to be a fantastic learning experience. Both the judges and the other competitors were supportive of newcomers, so we didn't feel any pressure (beyond the self-imposed kind). Though our first "run" (judged course) was stressful for Batman and me, by the second run we were communicating well, having fun, and even earned fifth place.
Whether we compete again is undecided, but the time I spent practicing (and practicing and practicing) and competing with Batman in our first rally trial has been an experience that pushed me to try something new, and reminded me just how cool my little old dog is.
Sarah – I was surprised at how well we all did. I can be a bit of a pessimist, so after the first run I was amazed when Hank and I qualified and then thrilled when all three of us did.
Hank, as the veteran canine competitor of the group, handled the stress very well. He has come a long way from the dog that stressed out, ran around and sniffed all the time. Much of the training I have done to combat his stress over the years transferred directly to the rally exercises. It was awesome to see that work pay off outside of agility.
We earned a 2nd place in the second run of the day. Now with 2 out of 3 legs to a Level 1 title, Hank and I will definitely trial again. Once we have that title, we may even try AKC rally. There are things to work on, too. First will be Hank's aggravation when asked to sit several times in a row. In the first run there were an handful of stationary exercises in a row. By the last one, he was so frustrated that he barked. A 3 point deduction.
Most of all, I am proud of Kate and Amanda. This whole thing was my idea and not only did they go along with it, but they worked hard and kicked butt. Thanks, ladies!