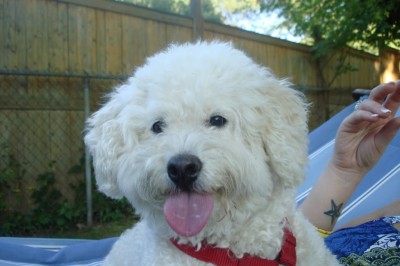 My friend, Jimmy, and his girlfriend, Rene, adopted a Bichon Frise named Jeffy this summer. Jeffy was recently hit by a car, suffered terrible injuries, but is now recovering at home.
Please check out Jeffy's website for his whole story and to read all about how Rene and Jimmy are taking care of him. It's really amazing the lengths we will go to for an animal we have a connection with. This story reminds me of what Vinny and I went through with Charleston, only with a better outcome.
I hope Jeffy has a speedy recovery and send my best to Rene and Jimmy.