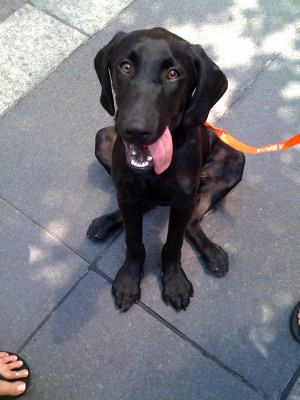 He definitely looks skinny even though he'd been gaining 8 pounds a week. And his head is comically small.
When we got there, it was not love at first sight. He's very gangly and awkward (which is awfully cute) and did not show much interest in me. However, after spending some time with him I realized what an amazing dog he is. He's bright, gentle and seems to absorb everything. He also became very interested in me once I did some food testing with him (not a bad thing for training). So I called Vinny and told him we were getting a puppy!
When I got Charleston I was lucky he turned out to be such a good dog. With the new little man, I feel smart for getting such a good dog and lucky that I got to him first. He's been amazing me every day with how cool and loving he is.
I won't bore you with any more details today, but promise to update on Hank (we changed his name… what do you think?) more often.