To conclude our week of announcements here goes:
Doggie Academy will be on hand at the Brooklyn Mutt Show to answer your behavior questions!

March 13th and 14th, the Brooklyn Mutt Show will celebrate all things mixed-breed. Dogs will complete in catagories such as Sloppiest Kisser, Best Tail, and Least Useful Pet Trick. Wanna register your pooch? Go here. The best part? A portion of all fees go to BARC Shelter.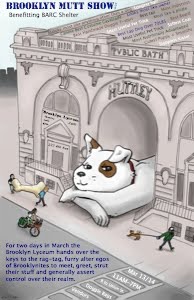 During the show, I will be in the vendor area (I hear there will be lots of great dog product vendors to check out). I will demonstrate how to teach simple and useful (or at least fun) behaviors. Hank might even make an appearance!

I'll also offer mini-seminars on topics such as:

What to know before you get a dog
Tug: is it ok?
Is your dog bored?
Leash walking: what equipment is right for my dog?
Sign ups for one-on-one time slots with me will be available both days. Or just stop by and let me shake paws with your mutt! This event is sure to be tons of fun for dog & human alike.