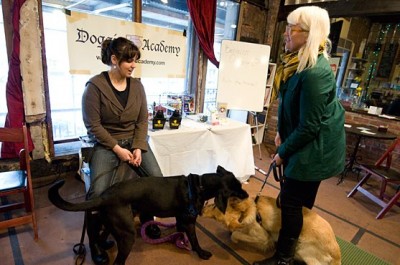 What a great weekend at the Brooklyn Lyceum! Even with all the rain, tons of mutt families joined us to celebrate all things dog and raise money for BARC (I got my BARC t-shirt, did you?).
I loved meeting tons of great people and their mutts and helping them with some of their behavior questions. Hank was happy to be my demo dog, showing off useful behaviors as well as useless tricks. I'm sure he would rather have been romping with the other dogs all day, but he did manage to make a few love connections anyway. A super cute Pit-shund (part Pit bull, part Dachshund) named Sparkle was his favorite playmate. He might be in love.
Some of my current clients joined in the fun and participated… Gray even won a bronze medal for best tail! Congrats!
Regan Fishman, the director of the event, did an amazing job and I'm already looking forward to next year's Mutt Show.