We are pleased to announce that we will be hosting Lindsey Hill for the two hour seminar Discover Rally Obedience.
Rally (or Rally-O) is a fun way to move beyond the basics and continue to improve your dog's obedience. The focus  in Rally is working together and having a good time. People and their dogs navigate their way through a series of tasks that challenge their obedience and teamwork. Heeling is an important part of the game and there are also elements of agility and freestyle involved. Rally is for dog's of all ages, but your dog should have basic obedience skills.
For more information about Rally Obedience check out  the AKC Rally page and the WCRL Rally page about getting started in Rally.
About the Instructor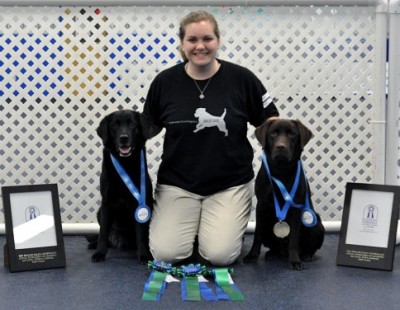 Lindsay Hill has been an avid dog lover all her life, with her start in competitive dog sports as a junior handler in AKC Conformation.  Since then, she has worked for the American Kennel Club at the corporate headquarters in Manhattan and has trained with various breeds and mixed breeds. Lindsay believes that every dog is different and does not have a "one size fits all" training methodology but rather treats each dog as an individual with different training needs. She actively competes with her Labrador Retrievers in Agility, Obedience, Rally, Conformation and Hunt Test events and often attends seminars and workshops to remain current with various aspects of dog training. She is also a member of the Association of Professional Dog Trainers and is an AKC Canine Good Citizen Evaluator. Lindsay has qualified for and attended many national competitions and tournaments with her dogs and was the #1 APDT (now WCRL) Rally Master Champion, #1 APDT Rally Veteran Champion and #1 APDT Rally Team Overall in the USA in 2012 with her Labrador Retriever, Tess. In 2013, she was also the #1 APDT Rally Veteran Champion with Tess as well as the #1 APDT Rally Puppy Champion with her youngest dog, Riot. Believing that training should be fun for both dog and handler, Lindsay utilizes positive training methods within her balanced approach to help you and your dog reach your fullest potential.
Discover Rally Obedience will be on Saturday February 7th, 3pm-5pm. Registration for working teams is $75 and is open online here under the Special Events tab. The number of teams is limited. Once the seminar is filled, there may be auditing spots available.