My cousin, Alanna, works at Banfield, The Pet Hospital in Cherry Hill, NJ. She alerted me to the story of poor Crumb, a delightful Pit Bull who will soon need to find his forever home after enduring a terrible ordeal.
Last Saturday a family called the hospital and spoke with Alanna. They had found a dog 2 months ago but now wanted to euthanize him because his skin was in such bad shape that it was bleeding everywhere. Alanna convinced them to bring the dog in by offering them a free office visit.
When Crumb arrived she could tell he was an approximately 2 year old Pit Bull. His skin was raw, crusty, scabbed up and bleeding all over. He only had a few patches of fur. It turned out that the family had been bathing him in motor oil in an attempt to cure his skin problem, and had therefore caused ulcers to form in his eyes. On top of all of these problems he was also emaciated.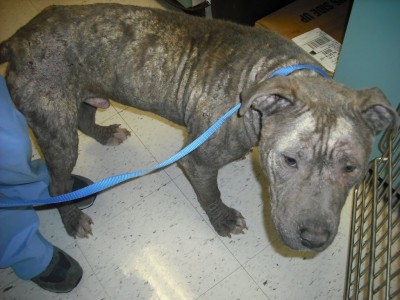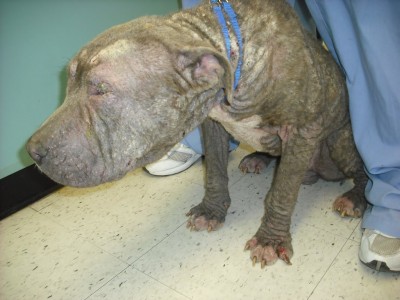 Luckily for Crumb, the hospital would not euthanize a dog for a bad skin condition. However, it was clear that his family was not taking care of him whatsoever so the hospital had them sign Crumb over to them.
Crumb now belongs to Banfield, The Pet Hospital and will be in the loving care of the staff there until he is better. Alanna estimates that it will take Crumb about 3-4 months to recover and has this to say about him, "Despite his miserable situation he is the happiest, bravest, sweetest, most beautiful little dog ever."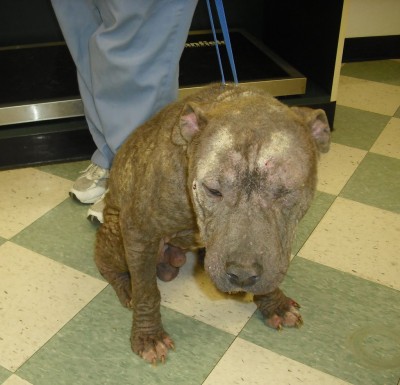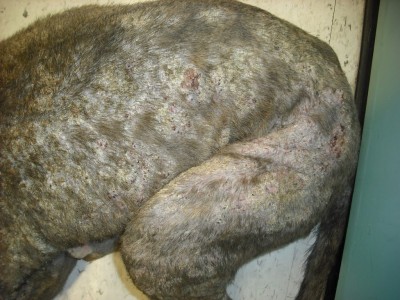 If anyone might be interested in adopting Crumb once his recovery is complete, please call the office at 856 317-0505. I will try to keep you updated on his progress.