According to the Fort Greene PUPS, a seemingly sweet young Pit Bull was abandoned in Fort Greene Park yesterday. She was found tied up at the Visitor's Center and was taken to NYC ACC as all the other local shelters were full. She is not yet appearing in an online search of the dogs at ACC, but she should be available soon. Fort Greene PUPS thanks to the individuals who stepped up and got involved because it's always heartbreaking to come across a dog that's been abandoned.
This picture of the dog was taken by the kind person who took care of her.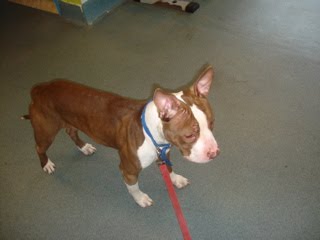 While I can't speak for her disposition, she is a gorgeous little pittie in need of some nourishment. The ACC is packed full with dogs in need of homes, many of them pit bulls. She won't last long at the ACC before they euthanize her, so if you're considering adopting please go meet her ASAP. It would be terrible for such a beautiful girl to be put down.