My friend and colleague Lauren Camerini forwarded this to me. Amy of Sugar Mutts Rescue is a good friend of hers and she can really use our help to give Prince a chance to be healthy.
Greetings from Sugar Mutts Rescue!
We recently rescued Prince, an absolutely precious little 3 1/2 month-old Pit Bull puppy and he needs your help!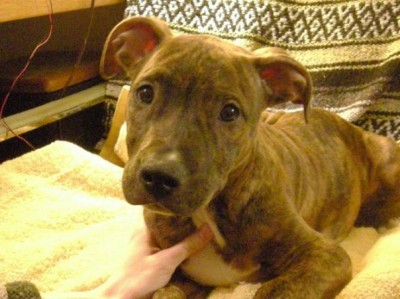 He came into the city shelter as a stray with a swollen front leg. After being x-

rayed

, we discovered that he has a badly broken elbow and needs surgery a.s.a.p. to repair it. He has his

pre

-op appointment at the ASPCA today with their new orthopedic specialist.
He needs pins/plates put in the joint and it will cost close to $1,000. We have raised about
$400 so far and are hoping you can help us raise the balance.
Donations can be made easily via Paypal through our website, www.sugarmuttsrescue.com
Any amount will help!
This little pup is sooo sweet and lovely, you would fall instantly in love with him. He deserves to grow up healthy and strong and live a full, happy life.
Thank you for your help and support and I hope this e-mail finds you all well!
Amy Marciano

Sugar Mutts Rescue

646-732-3795
www.sugarmuttsrescue.com