Inauguration Fever is everywhere! I have never seen so much excitement surrounding a new president and companies are using it as an excuse to promote special offers. Some these offers include our pets.
Loews Hotels are celebrating with an "Indoguration" Package. For the first 100 days of Obama's administration, you can get a special "Stars and Stripes" room service meal for your dog and a patriotic-themed bandanna for your pooch to wear home.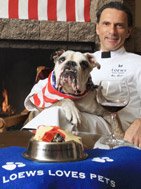 Do you know of any other Inauguration Dog Specials out there?