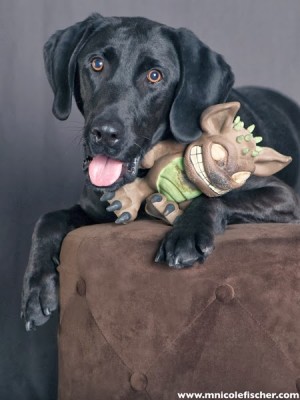 Nicole took this awesome photo of
Hank with his Monster
Save the Date!
Friday, December 13th 6:30pm-10:30pm
Holiday and Fine Portraits at the Brooklyn Dog Training Center
If you've been meaning to update your canine family album with professional photos, here's a great opportunity!
Professional photographer M. Nicole Fischer is now accepting a *limited*
number of bookings for an evening of holiday and fine portraits at the
Brooklyn Dog Training Center at 168 7th Street in Park Slope.
Nicole's been making gorgeous custom portraits full-time since 2005 and
also happens to be the trainer and handler of Ruse, the youngest standard poodle to become a triple champion in agility.
The $35 session fee on your credit card reserves your 45-minute session/immediate image viewing, then you just pay for the images you'll select on site at regular prices and discounts.
Your full name

How many dogs

Which breed(s)

Any questions you may have

The number/time at which Nicole can call you to charge your session fee
Nicole will then e-mail you with ideas about what to bring with you, what to wear, and the exact time to arrive at the Brooklyn Dog Training Center.