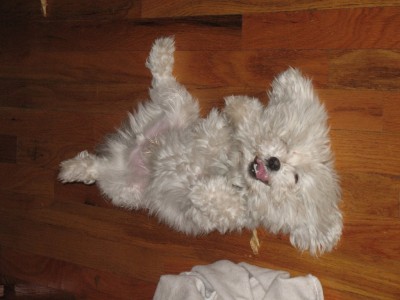 This winter I fostered a dog for the Metropolitan Maltese Rescue. I was told he had been an owner surrender because his owner's fiance didn't care for the dog and therefore he spent 19 hours a day in his crate. Needless to say, the little guy had "issues." His name was Bogart, but everyone agreed it didn't suit him so I promptly changed it to Henry. I chose Henry after Henry Young, a prisoner at Alcatraz that spent 3 years in solitary confinement (he was played by Kevin Bacon in "Murder In The First").
Henry had to go to another foster home when we moved in February, but I'm told he's doing very well there. Apparently, he has tons of Chihuahuas to play with and loves being part of that pack. He is still available for adoption, though he would only be suitable for an experienced and child free home. If anyone is interested in adopting Henry, feel free to contact me for information on his "issues."
All of his information can be found on Petfinder. The photo here is of him (before being groomed) enjoying a strip of dried chicken.