Here's Temple's flyer from our friends at Monster Mutt:
TEMPLE Needs a Home!!!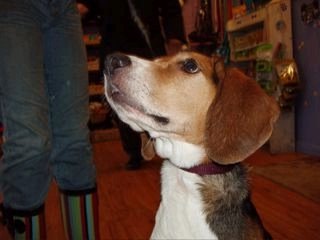 TEMPLE is a 4 year old Beagle. He is male, neutered, fully vaccinated & in excellent health. He is friendly, happy, super sweet & the perfect size for a Brooklyn or NY apartment. He loves people & dogs alike & she deserves a wonderful FOREVER HOME.
Temple belonged to a woman who is in the military. The woman was deployed to Iraq. She found someone to take care of Temple while she was gone, but it turns out that person was unable to keep Temple. The Mayor's Alliance of NYC was asked to help and has asked Monster Mutt to help find Temple a FOREVER HOME.
Now he is living at Monster Mutt, with really nice dogs to play with and nice people to pet him, but he really needs his very own FOREVER HOME.
Please come visit TEMPLE at:
Monster Mutt LLC, 297 Warren Street, Cobble Hill, Brooklyn, 718-858-9028