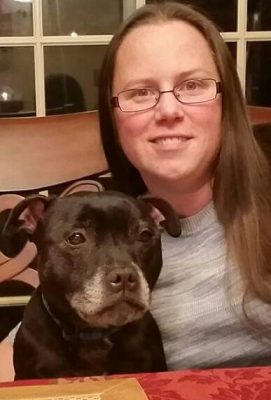 Jamie Sheehan has a masters degree in ealrly childhood special education with a strong focus in behavior intervention. She is a NESDCA certified (National Entomology Scent Detection Certification Association) bed bug scent detection canine handler and is in the process of completing both the Fitpaws Master Trainer and Certified Canine Fitness Trainer programs. She volunteered in the past as a therapy dog team for Pet Partners with her now retired senior dog, Zoe.
Jamie has completed an internship at Paws4ever Animal Sanctuary where she worked closely with the manager of their dog training program, assisting in a variety of group classes and private lessons to the public. While there, she also helped perform behavior assessments and create intervention plans for the dogs in the adoption center. Jamie creates training programs that meet the needs of individual students with a focus on always improving the canine/handler bond. She uses methods that are simple, scientifically sound, effective, and dog and handler friendly.
Jamie competes in conformation shows as an owner/handler. She and her dog Layla completed their championship title at the Staffordshire Bull Terrier National Specialty Show when they were awarded Best of Winners in a field of fifty entries. She has been competing in Flyball for four years and is currently in the process of building her own team, Brooklyn Ballerz.
Services offered