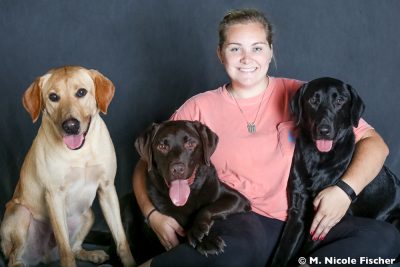 Lindsay Hill has been an avid dog lover all her life, with her start in competitive dog sports as a junior handler in AKC Conformation.  Since then, she has worked for the American Kennel Club and has trained with various breeds and mixed breeds. Lindsay believes that every dog is different and does not have a one size fits all training methodology but rather treats each dog as an individual with different training needs.
She actively competes with her Labrador Retrievers in Agility, Dock Diving, Obedience, Rally and Hunt Test events and often attends seminars and workshops to remain current with various aspects of dog training. She has qualified for and attended many national competitions and tournaments, including the American Kennel Club National Agility Championship, The Masters Agility Championship at Westminster, UK Agility International US Open and Canine Performance Events Nationals.
Lindsay has been nationally ranked in various sports with all of her Labrador Retrievers and uses a balanced training approach to help your dog reach its fullest potential.