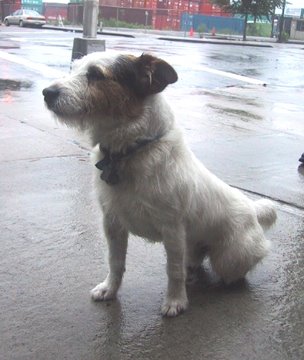 A Columbia Waterfront neighborhood fixture, Mango, has gone missing. He is a local celebrity of sorts and I've received several emails and notices about him.
This is from Steve of Steve's Key Lime Pies:
Someone absconded with our trusty sidekick Mango on Saturday, November 22, 2008 at approximately 7:00 PM from in front of Jake's BBQ and the B-61 Bar, corner of Degraw and Columbia streets. For the past few years, Mango has hung out at that corner, greeting passing dogs in his venerable fashion, entertaining those of us who have come to know him, greeting customers of Alma and B-61 (sometimes laying on the doormat inside the entrance). In his many years of untethered freedom, he has lived as good a life as a dog could.

Mango does not leave that corner with the exception of walking half a block
in either direction to make his mark. As much as one might beg him to follow,
he would not leave his life and his routine for the past 4+ years. The price
we pay now for allowing him his freedoms is that there are some who would
just help themselves to whatever they would like, regardless of any thought
beyond what they want. So be it.

If indeed some nefarious naerdowell did scoop him off, I am asking the good
people of Brooklyn to assist in returning Mango to his rightful home and his
rightful routine with our family and friends, including his 32 children, his
partner Mammey and us.

http://keylime.com/mangogallery.html
is where you will find a gallery of Mango images and a few video links for
identification purposes (pages are a work in progress).

http://www.keylime.com/image.html/WantedMango.pdf is a link to a PDF (a big file, sorry) being a WANTED poster which we would hope you print and post at your corner bodega, pet food shop or anywhere someone would allow. We will later be posting a smaller PDF with image and description that one could keep with them in case of a sighting. We appreciate any help we can get, whether it be in a blog, a
vigilant eye, please take a look here.
This is the info from his "Wanted" poster:
REWARD: MANGO
Went Missing On Saturday, 11-22, 7:00 PM, on the corner of Columbia and Degraw, while innocently waiting a piece of cornbread outside of Jake's BBQ (corner of Alma, B-61, DUBPies & MargretPalka Bakes).

Someone, with apparent good-intentions, picked up Mango (hardest working dog in the key lime pie business). We are seeking the return to his rightful master and his place in the pie kingdom. Reward for information leading to the return of our beloved mascot, constant sidekick, canine friend and family member. He is a 10-year old intact male (father of 32), brown on both ears, light-brown "mango" on left side of face. He answers to Mango, Crack-Pipe and Freak-Farm.

To verify his identity, just ask him "where's the rat?" If he doesn't respond, it ain't him. Call any of the numbers below. 718-288-0853, 718-858-5333, 917-280-6505, 646-431-8177, or just drop him off where he was last seen, I'll meet him at the B-61 bar as has always been the plan, every day for the past 4-years (besides, he never got his cornbread).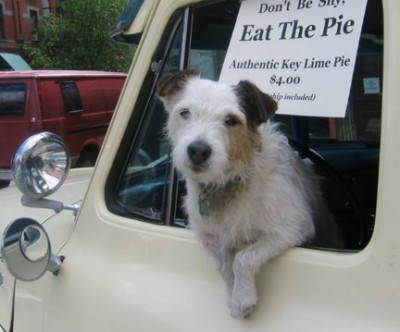 There are a lot more photos of Mango on Steve's Flickr set. Let's help get him home!