When developer Shaya Boymelgreen began building the Novo condos on Fourth Ave. in Park Slope, the city allowed him to use the southern portion of J.J. Byrne Park as a staging area for construction equipment. In exchange, Mr. Boymelgreen agreed to renovate that section of the park which is to include handball courts, basketball courts, a skate park and a dog run.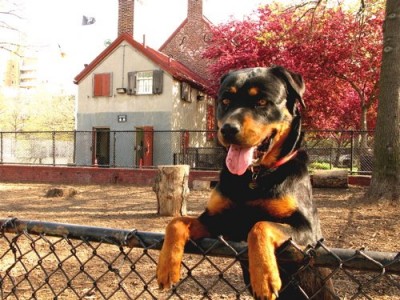 So, for what seems like forever, those of us that live nearby have been using a tiny makeshift dog run with fencing that is dangerous for small dogs (has huge gaps) and large dogs (too low in areas) alike. Not to mention that the entry gate is not secure at all. But it seems as though our wait is over! This photo is at the current dog run and is from a post on Brownstoner (check out the argument that ensued in the comments).
The Brooklyn Paper announced that the park is now done and there will be an official ribbon cutting on December 3rd! How exciting!
I hope to have time to take Hank there this weekend. Has anyone been yet? Is it really open? Do they have a double gate? What is the ground surface?