I came across this little guy on Petfinder and was appalled at his story.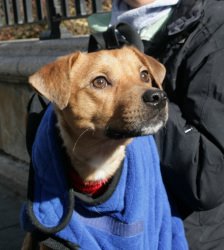 Hello, I'm Edgar and I was a little dog in a world of trouble! A very nice lady found me wandering around Astoria with some very bad wounds. The vet said it looked like I was tied up and the restraints cut into my flesh. I got loose somehow and it took the vet over 30 stitches to close my wounds. Now I'm safe and sound and ready to go home! I'm a 25 lb., male terrier mix who just has a little spice to go with my sweet personality. Take me home and I'm sure that we'll be a perfect match!
There are other photos of Edger on his listing and they are pretty gruesome. It's so difficult for me to believe that someone could tie up a dog to the point where whole swatches of flesh are torn off. After an experience like that, no wonder he "has a little spice."
If someone in Brooklyn adopts Edger, I will offer them a 15% discount on training. That's 5% more than the usually Shelter Dog Discount.