While Sarah is teaching at the Fall sessions of Camp Gone to the Dogs, she has hired Rachel Lane of Leash & Learn to teach a Rally Obedience seminar on September 10th.
The goal of Pointers for More Points is to help you and your dog get the most out of every run you have! Stop giving away easy points with sloppy sits, out of positions, and repeated cues. By focusing on timing, positioning, stays, and heelwork you can make small changes in your practicing and trialing that will have a big impact on your score. This seminar is appropriate for dogs who have basic obedience (sit, stay, down), and proficient heel work, and who are able to work around other dogs and people.
Rachel Lane is a certified professional trainer and the owner of Leash and Learn. She also holds a Certificate in Applied Animal Behavior through the University of Washington. She sees private clients in Manhattan for a variety of behavior problems including dog aggression, human aggression, manners, leash walking, and puppy problem prevention. Rachel is an avid student of positive reinforcement training and translates cutting-edge animal behavior sciences into city-smart training for your dog.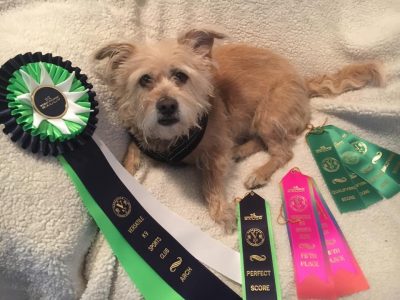 Rachel and her terrier mix Dustin have earned numerous titles in both AKC and WCRL rally. He achieving his Level 1,2, and 3 titles, all with an Award of Excellence, Level 1 Championship, Level 2 Championship, Rally Champion (ARCH) and Rally Champion Excellent (ARCHX) with WCRL. In AKC, Dustin has earned his Novice rally title and qualified for the 2016 national championship. Rachel and Dustin have also competed in freestyle and nose work, and enjoy trick training and parkour.
Registration for this 2 hour seminar is open online now. Only 6 working spots (plus some auditing spots), so don't miss this fun opportunity.