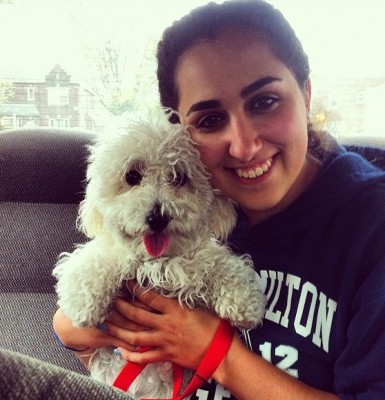 Amanda Kontakos began training at a young age, working with horses and competing in Hunter/Equitation. Interested in training, she stopped competing and began to work using natural horsemanship techniques. With continued research in positive reinforcement training, Amanda even taught horses targeting and other tricks using Clicker Training.
Amanda adopted her Bichon Frise, Lucy (on Instagram) from Sean Casey Animal Rescue in early 2014. Lucy was extraordinary fearful, but she has steadily gained confidence thanks to Amanda's training. The two began training together in Doggie Academy's Basic Manners class and now, training is Lucy's favorite activity. Amanda enjoys helping dogs and people reach their potentials and goals together using positive reinforcement training techniques.
She is currently studying History and Secondary Education at Brooklyn College. Amanda has taught children and adults how to ride and take care of horses for several organizations including Pony Club. She has volunteered her time to vet clinics, shelters, therapeutic horseback riding programs, as well as the Prospect Park Zoo, where she educated the public on wildlife conservation.
Services offered